The Rise of Commercial Cleaning and Janitorial Robots: A Look at Leading Solutions and the Benefits They Bring Across Industries
The cleaning and janitorial industry is undergoing a remarkable transformation with the advent of commercial cleaning and janitorial robots. The market for these robots is currently experiencing exponential growth and the global cleaning robot market size was estimated at USD 4.19 billion in 2022 and is anticipated to grow at a compound annual growth rate (CAGR) of 22.9% from 2023 to 2030.  This growth can be attributed to the advantages that these robots offer, including improved efficiency, productivity, scalability, reduced costs, and enhanced safety. In this blog post, we will provide an overview of the leading solutions in the market and the benefits they provide to various industries, highlighting the need for reliable cellular connectivity to ensure that these robots are always on.
As technology continues to evolve, so do the tasks that robots are capable of performing. These days, robots are not limited to manufacturing; they have become a crucial asset across various industries, especially within the commercial cleaning business. With the increasing demand for high-quality and efficient cleaning solutions, cleaning robots have become a game changer for businesses looking to streamline their operations. Moreover, these robots require reliable cellular connectivity to ensure they are always on to function properly. Let's explore how cleaning robots are being used in different industries and the importance of reliable cellular connectivity to keep these robots operational.
Healthcare Industry
The healthcare industry is one of the biggest adopters of cleaning robots. Hospitals and clinics require constant cleaning to maintain high levels of hygiene. In the past, cleaning staff were required to undertake this task manually. This demanding task resulted in lapses and delays, which posed significant risks to patients and medical personnel. With cleaning robots, this issue has been resolved. Robots such as Tru-D Smart UVC can disinfect a patient's room in a matter of minutes leveraging state of the art technology. Reliable cellular connectivity is vital in ensuring that these robots can function around the clock, even if WiFi is unavailable, allowing for the constant cleaning of medical facilities.
Hospitality Industry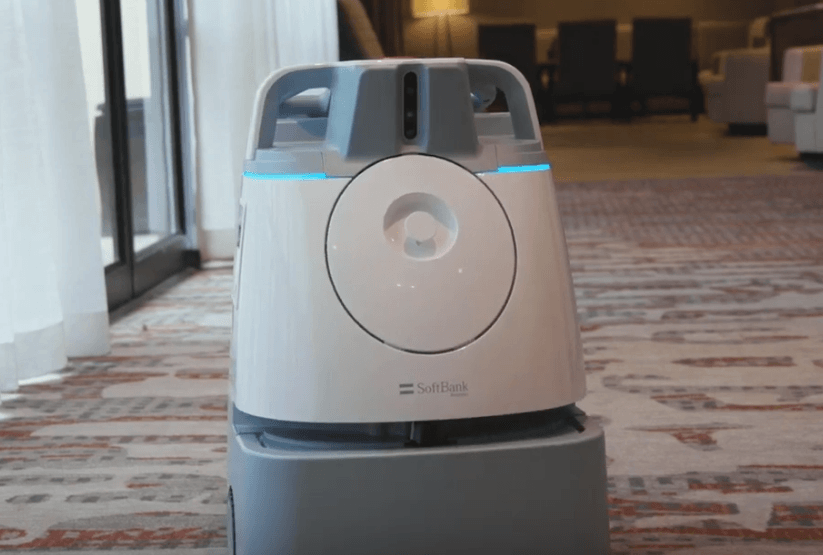 Hotels and resorts have also adopted cleaning robots to improve their services. With guests always on the lookout for a unique experience, the use of cleaning robots has become a competitive advantage. Robotic cleaners such as Whiz from SoftBank Robotics have been designed to operate in a wide range of hospitality settings. These cleaning robots are efficient, thorough, and most importantly, cost-effective. They are also able to maneuver furniture, allowing for complete coverage of floors. However, to keep the robots in operation, reliable connectivity is needed to ensure they are always on and operational.
Industrial Industry
The Industrial robots are used in factories and warehouses to maintain cleanliness, which is essential in preventing contamination and ensuring the safety of employees. In this way, robots have become an essential tool in streamlining operations. While many robots connect via WiFi, many robots leverage reliable cellular connectivity to ensure that robots can be monitored and controlled remotely, allowing for quick adjustments to be made in real-time.
Education Sector
The Education Sector has also joined the roster of cleaning robot adopters. With schools being some of the most germ-infested places, cleaning robots have helped minimize the spread of infections and illnesses. Commercial janitorial robots are being used to disinfect classrooms, restrooms, and other educational facilities, providing students and teachers with a safe and clean environment to learn and work. Reliable cellular connectivity is needed to ensure smooth operation, allowing cleaning staff to be alerted if there are any issues with the robot's functionality.
Commercial Retail Industry
The Commercial Industry has also embraced the use of cleaning robots to improve efficiency and productivity. Companies like Walmart and other major retailers use cleaning robots to maintain the cleanliness of their stores. Furthermore, the cleaning robots save time and money on staffing, allowing for businesses to allocate resources to more important areas. To keep these robots operational, reliable connectivity is needed as they require a constant connection to function properly.
Examples of Commercial Cleaning Robots That Are Transforming Industries:
Somatic
Somatic is a leading provider of autonomous cleaning robots, providing solutions for a range of industries, including hospitality, healthcare, and education. Somatic robots operate on 4G cellular networks, ensuring that they are always connected, and can complete their cleaning tasks in a timely and efficient manner. Some of the benefits of Somatic robots include improved hygiene, reduced labor costs, and the ability to operate 24/7.
Avidbots
Avidbots is another company that is revolutionizing the cleaning and janitorial industry with the use of autonomous robots. The Avidbots Autonomy platform enables robots to automate repetitive cleaning tasks, providing a reliable and scalable solution for businesses in various industries. By leveraging cellular connectivity, Avidbots ensures that their robots are always connected, providing real-time data and insights to operators.
ROSI CLEAN
ROSI CLEAN provides cleaning solutions that leverage the power of autonomous robots to improve efficiency, reduce costs, and enhance safety. ROSI CLEAN robots are equipped with cutting-edge sensors and navigation technology to provide a reliable and consistent cleaning experience. By using reliable cellular connectivity provided by their partners, ROSI CLEAN ensures that their robots are always connected, providing real-time updates and insights to customers.
Sparkoz
Sparkoz is a provider of high-quality cleaning robots designed to meet the needs of various businesses. Their robots are capable of cleaning complex environments, including carpets, floors, and walls, providing a comprehensive cleaning solution. By providing their robots with reliable connectivity, customers can ensure that their robots are always on, and providing the benefits of improved efficiency, reduced costs, and enhanced safety.
Whiz
Whiz from SoftBank Robotics America is a commercial robot vacuum that leverages advanced navigation technology and 4G network connectivity to provide a reliable and scalable cleaning solution. Whiz robots can operate 24/7 and can provide real-time updates, making cleaning tasks more predictable and efficient.
The Role of Cleaning Robots and the Importance of Reliable Cellular Connectivity
It is clear that cleaning robots have become the dynamic solution for businesses looking to streamline their operations. With the use of robots comes the need for reliable cellular connectivity as, in most cases, reliable internet connection is needed to ensure the robots are always operational. As the world becomes more reliant on technology, the use of cleaning robots will only continue to grow. For businesses looking to stay ahead of the curve, investing in reliable cellular connectivity will be crucial in ensuring that cleaning robots are a worthwhile investment. For example, Whiz from SoftBank uses the 4G networks from AT&T, Verizon, T-Mobile/Sprint, and US Cellular for domestic coverage to ensure that their robots remain reliably connected.
Why Are Leading Robotics Companies Turning To eSIM Technology?
When it comes to keeping robots reliably connected, many companies are making the switch to eSIM technology to save money and streamline their operations.
Reduced Costs
For robotics companies, having an eSIM means they can easily connect to global networks without incurring roaming charges. With traditional SIM cards, roaming costs can be prohibitively expensive for robotics companies, especially when they work in different countries. With eSIM technology, companies can use a local network and avoid expensive roaming charges. Furthermore, eSIM technology supports remote management, allowing robotics firms to activate, deactivate, and switch carriers remotely, decreasing operational costs.
Unlike the traditional SIM card, with eSIM technology, robotics companies are not locked into an agreement with any particular operator. With eSIM technology, robotics companies can choose the network they want to connect to based on their business requirements, which is more cost-effective.
High Performance Connectivity
Robotics companies using eSIM technology benefit from lower latency, higher throughput, and better performance. Connecting directly onto a carrier network that fits the specific needs of your deployment results in faster connectivity at more affordable rates. Robotics companies that can connect onto the best networks, anywhere in the world, are able to make better-informed decisions, ultimately leading to increased productivity and efficiency.
Increased Flexibility and Control
eSIM technology provides increased flexibility, allowing robotics companies to make the necessary changes to their operations easily.. True eSIM from Teal can connect your robots onto any global network on-demand. This provides greater flexibility in terms of mobility and allows companies to operate anywhere in the world with ease.
eSIM technology has significantly impacted the robotics industry, enabling companies to save money, improve efficiency, and increase flexibility. With the numerous benefits of eSIM technology, it is easy to see why robotics companies are increasingly adopting this technology.
Find out if eSIM is right for your business. Contact a Teal IoT expert today!